Part Worn Motorcycle Tyres
Find and buy great part worn motorcycle tyres for all different makes and models of motorbikes. These tyres can help save money over buying the same tyres brand new. Many of the tyres on this site still have plenty of tread left on them for miles of extra use. Performance bike owners find that over time huge amounts of money can be saved each and every time a motorcycle tyre is in need of replacing. We showcase a great selection of Motorcycle and Scooter tyres from all leading manufacturers!

We may be compensated for any purchases made
Why buy Part Worn Motorbike Tyres?
For keen bikers looking to save money on their next tyre purchase, there is always the option of buying your next tyres in part worn condition. These tyres can be picked up at dramatically lower prices than the same tyres brand new. You may be simply looking to replace a damaged or heavily worn tyre cheaply, with a tyre with the correct amount of tread, or wanting to upgrade your tyres to a better brand and specification. We showcase all the different brands including Bridgestone, Continental, Dunlop, Pirelli, Yokohama in the many different sizes. Suitable for sports bikes through to scooters and mopeds, you can find the correct tyre or pair of tyres for your bike!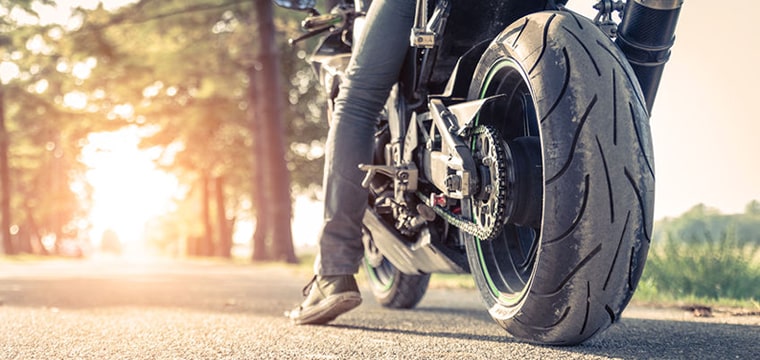 Tyres can be a great expense when owning a motorcycle, with regular changes needed and specialist tyre brands costing more and more. An alternative is part worn tyres. You can buy tyres with plenty of tread and no damage, but with less tread than out the factory. Yes, they may not last quite as long, but in many cases the amount of saving on the tyre price itself makes all the difference. Sometimes it is a case of trying to get your bike back on the road as cheaply as possible, especially after a puncture. Whatever your reason for needing them, used tyres are certainly worth considering.